No it's not a play on words, referring to an altered state of mind, nor does it refer to a club where membership is achieved by acts taking place while in flight. Mile High RC refers to our location. Being just outside of Denver, Colorado. Denver is known as the Mile High City. Mile High RC was started in 2002, but our goal still remains the same today. Offer RC products that work, offer that product at a fair price, offer support for that product, and never shy away from warranting such a product. As you browse our site you may have questions. We take great pride in the support we offer. So if you have any questions, comments, concerns, etc... everyone is encouraged to drop us a line at sales@milehighrc.com
---

---
US Distributor for EME Engines
| | | | |
| --- | --- | --- | --- |
| | EME55 - Out of Production | | |
If you see a better price on any of our items please let us know. We will meet or beat other sellers prices when ever possible.
We offer a full line of electronic speed controls, rc battery chargers, rc accessories such as servos, props, arf kits, a great gas section offer EME, DLE, DLA, MLD,, PTE, and many other engines, Gold Wing RC, Ecom, ESM, Winner's model EPP kits, and others. miracle rc switches, props, regulators, LiFe (a123) packs. The gas section also has some good economical servos and props. Check out the Optic Kill Switch it is a great value!!! Canister mufflers and pitts mufflers to fit most 20CC-150CC engines including DLE30, DLE55, DLE111.
Product Highlights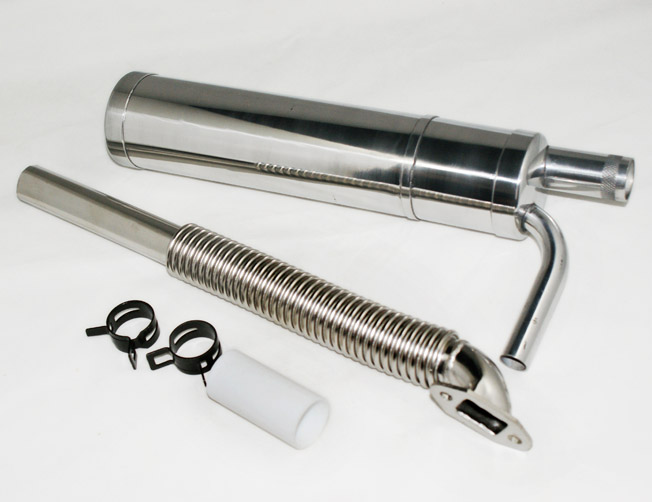 We offer a very competitively priced line of RC Mufflers to fit most applications. Including pitts mufflers, side dump mufflers, smoke mufflers, and canister mufflers. We also offer headers only for allot of common engines on the market. If you need a muffler we do not list feel free to drop us a line and we will see what we can do to stock it. And of course as with all Mile High RC products they have a warranty. Check out the muffler page to see what we offer.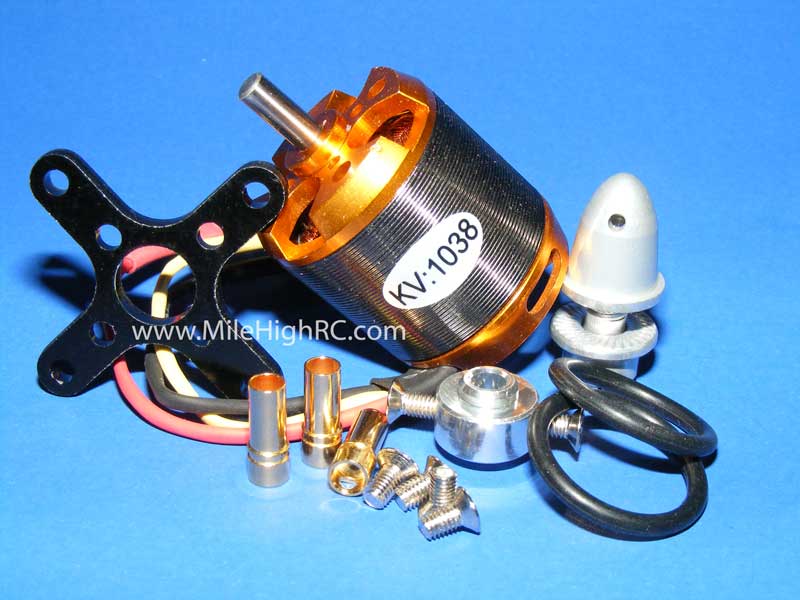 We have compiled a great line of outrunner motors. Little foam birds up to converting giant scale gas planes we are most likely going to have a motor that fits your needs. Current motor selection is from 80 watts up to 6400 Watts. Our motors are very competitively priced, designed to compete with the guys over seas in price but perform like a motor twice the price, and of course are guaranteed to be from defects. The data you see is from our personal test stand and are real and accurate numbers. We use flight packs for power during the test so numbers are not from an unlimited power source. For you video guys see our 100% buy back offer below. Check out the motor page to see our line of motors.
.: We are looking for some flight Video!!
For those of you who video your flights. We have many motors that do not have user submitted video yet. Should you be interested in such a motor we are happy to offer 100% buy back with the submission of your video. If you question if the motor you are interested in qualifies for the buy back program feel free to drop us a line.
.: We are looking for a motor tester!!
For those of you who have an adequate test stand we would love to get some 3rd party and lower elevation test stand numbers. Info should be at least the data we capture from our testing (see outrunner pages). Will be done on a buy back basis like the Video buy back program.