EME 120CC Gas Engine
Mile High RC is excited to offer yet another affordable engine for the RC market. The EME line incorporates 100% reliable parts such as, RCEXL ignition (not a copy), and bearings made in Japan (not a copy). Produced with modern CNC and casting production methods. The EME line is in a class above the other China engines and they have actually researched and designed the motor. This is obvious when you look at some of the nuances such as: Ported head design, increased displacement, angled stock mufflers, a useable working throttle arm, very well thought out reed block design. To compliment this great affordable motor Mile High RC includes a set of Iridium CM6 spark plugs at no additional cost.
18 Month Warranty - Serviced right here in the USA.
Mile High RC customers.
Enjoy after the sale service.
Mile High RC offers cost on parts +10% and labor charge to fix any after warranty issues or crash damage.
Download the Manual - Here
(Note Ignition is 6-12V manual is a misprint)
Dimension Diagram - Here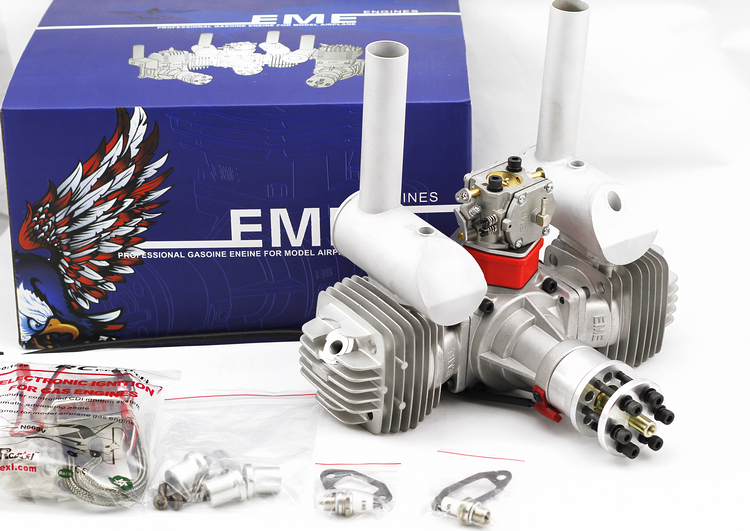 EME 120CC
$649.00
Includes Free CM6 Spark Plugs
We will meet or Beat any other Authorized dealers price (including shipping).
Specifications:
Displacement: 120 cc
Weight: 5.97 lb. with Mufflers & Ignition

Engine -5.3lb (2400g), Muffler - .35lb (160g), Ignition - .3lb (160g)
RPM Range: 1,100-7,200
Output: 12.2 hp @ 7,000 rpm
Requires: unleaded gasoline (91~93 octane), oil (35:1), ignition battery (6-12v) & propeller
Includes: electronic ignition, muffler, spark plug, gasket, bolts, machined aluminum standoffs
Suggested Propellers: 27x10, 28x10, 28x12, 29x10 (3-blade: 27x12) - Prop bolt pattern is the same as DLE 111

Technical Data:
Ignition: Rcexl HV 6-12V ignition. 2-cell lipo unregulated suggested (manual is not updated with HV ignition info)
Compression Ratio: 7.6:1
Gas/Oil Mix: 30:1 ~ 35:1
Replacement Spark Plug: NGK CM6 or equivalent

Ignition: Rcexl

Carb: Walbro WJ71

271mm plug to plug about 285 cap to cap
| | | | |
| --- | --- | --- | --- |
| EME 60/120 Cylinder - $88.00 | EME 120 Crankshaft - $115.00 | EME 120 Crank Case - | EME 60/120 Piston - $18.20 |
| EME 60/120 Piston Ring- $7.20 | EME 120 Stock Mufflers - $76.99 | Walbro WJ-71 Carb - $59.00 | EME 120 Gasket Set - $15.00 |
| EME 120 Reed Assembly - $21.60 | EME 120 Main Bearing Set - | EME 120 Prop Hub - $18.13 | |