DJ72cc - GTS Gas Engine
Founded in July,2010 DJ engines is a dedicated manufacture for RC gas engine and parts. With professional design, precision machining and reliable quality management, DJ Engines ensures the best quality of products. In addition DJ Engines is dedicated to post sales service with a commitment not only to great products but also responsible service. Experience DJ Engines commitment to reliable RC gas engines of excellent performance with reasonable price
Some cool things about the DJ 72cc
Walbro Carb - NSK main bearings - RCAME HV Ignition (4.8-12V)
Same foot print as EME55/60 (DLE55) - Same prop bolt pattern as EME55/60 (DLE55)
Choke Tube molded into the case - Only 4 1/4 pounds (including all bolts)
Now with new spacer design, reduces friction and heat
Reed block molded in to rear case, reduces reed issues for improved intake performance
18 Month warranty serviced right here by Mile High RC.
Manual (Dimensions on last page) - Here
Exploded Parts Diagram Here
Video Below
Specifications:


Displacement: 72 cc
Weight: Engine - 1620g Muffler - 130g Ignition - 68g
RPM Range: 1,200-8,000
Output: 7.2 hp @ 8,000 rpm
Requires: unleaded gasoline, oil, ignition battery & propeller
Includes: Engine, Ignition, Muffler, Spark Plug, Exhaust Gaskets, Bolts, Standoffs, Manual, and Decals
Suggested Propellers: 23x10 - 24x10 - Suggested to load for 6,500 to 7,200 RPM.

Technical Data:
Ignition Battery: 6-12V
Compression Ratio: 7.8:1
Gas/Oil Mix: 30:1 ~ 35:1
Replacement Spark Plug: NGK CM6 or equivalent

Ignition: RCAME (HV up to 12V)

Carb: Walbro

Bore: 48mm

Stroke: 40mm

Timing: 28-32 Degrees BTDC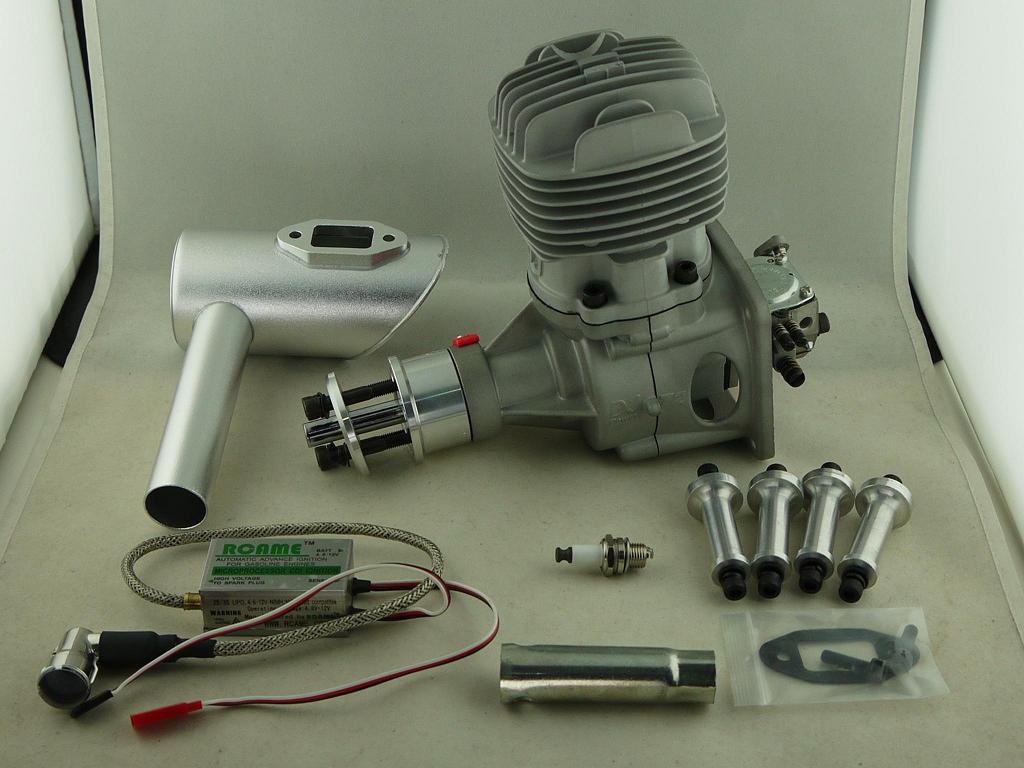 DJ 72cc Gas Motor
$299.00
Now with Upgraded Spacers and Free NGK CM6 plug
Read about it on Flying Giants

The guys un in the geat white north have been running some tine pipe data.
Its good info if you plan to run a pipe, also some good run video as well
Flight Video With New Spacers
All EME motors come with a 18 month Limited warranty. But with Mile High RC motors if your engine is DOA we replace the entire unit. Every nut, bolt, washer, even the ignition gets replaced. After the warranty term or for non-warranted repairs such as a crash we will service your motor for cost of parts + 10% (no labor charge) + return shipping.