2835-8 1038KV Outrunner Brushless Motor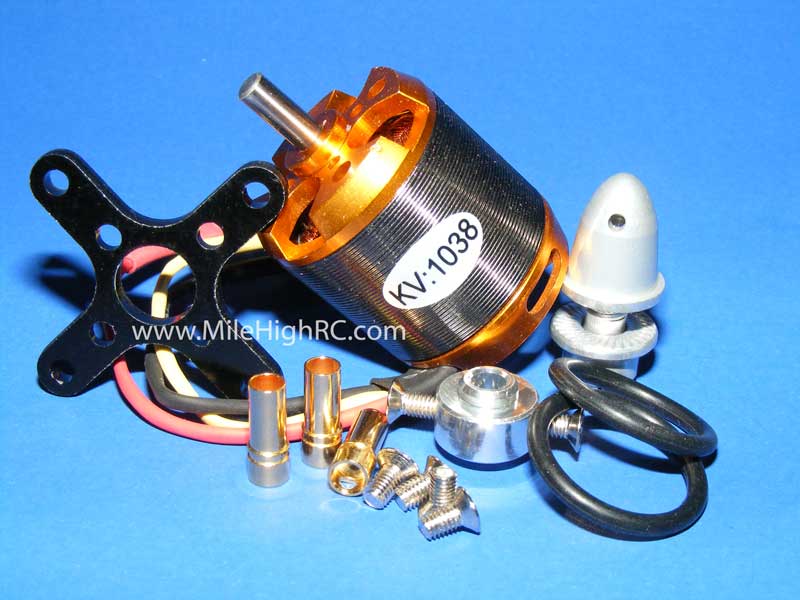 This is a nice light direct drive outrunner motor. Run this motor on 2-4 cell lipos (7-15 metal cells) and match it with an ESC of 12 Amp through 30Amp capacity. The motor comes as photo with 3.5mm connectors pre-installed and the female connectors for the ESC are included as well. Also including an X-mount, prop saver, and cullet type prop adaptor the 3.17mm shaft is reversible and replaceable.
Rated at 20Amp max constant with bursts to 25A. Run this motor at a max of 200 watts. Run it on planes up to 30oz. for general flight and 22oz. for 3D type flying.
Factory Info: 1038KV - IO 1.1 - 8-12 NiCd/Mh 2-4 Cell Lipo - Suggested prop 10x7
2835-8 1038KV 2-4 Cell Lipo 1038KV ~ 20 Amps ~ 200 Watts
Weight: 2.4oz (68g) Diameter: 27.7mm Shaft: 4mm
Direct Drive Stats (Stats by us at 4,907' above sea level)
Motor Data for 2835-8 1038KV

Prop Type

Prop Diameter

Prop Pitch

Voltage

Thrust Oz.

Thrust Grams

RPM

Amps

Watts

Pitch Speed

GWS HD

8

4

12.2

21.4

606.7

11790

9.0

110.2

45

GWS HD

8

4

11.2

18.2

516.0

10860

7.7

86.2

41

GWS HD

9

5

11.9

33.8

958.2

10560

15.2

180.9

50

APC SF

8

6

11.7

28.4

805.1

9570

19.7

230.5

54

APC SF

8

3.8

11.8

26.8

759.8

10740

13.3

156.9

39

APC SF

9

3.8

11.6

32.5

921.4

10020

16.3

189.1

36

APC E

8

4

11.6

22.2

629.4

11040

10.2

118.3

42

APC E

9

6

11.4

31.1

881.7

9540

17.8

202.9

54

GWS HD

10

6

11.3

35.5

1006.4

9360

18.4

207.9

53

Copyright www.milehighrc.com all rights reserved
Factory Info: 1038KV - IO 1.1 - 8-12 NiCd/Mh 2-4 Cell Lipo - Suggested prop 10x7
We really like the power running this motor on a 3-cell with an APC SF 10x4.7. Pull out on 16 ounce airframes is awesome at our elevation. (video)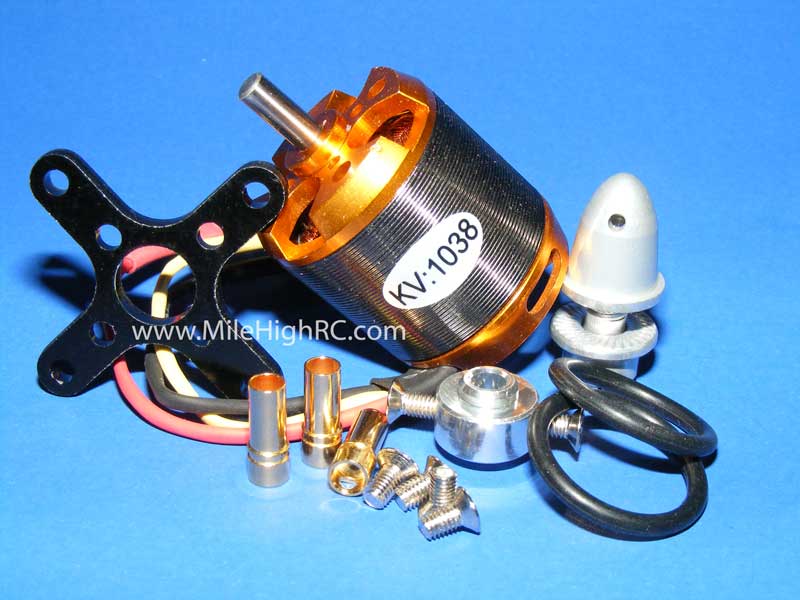 2835-8 1038KV Outrunner $23.00