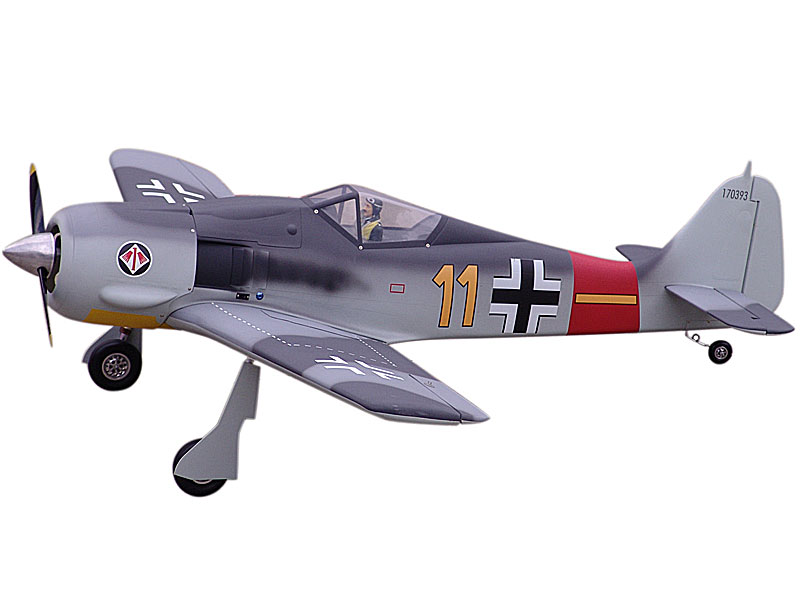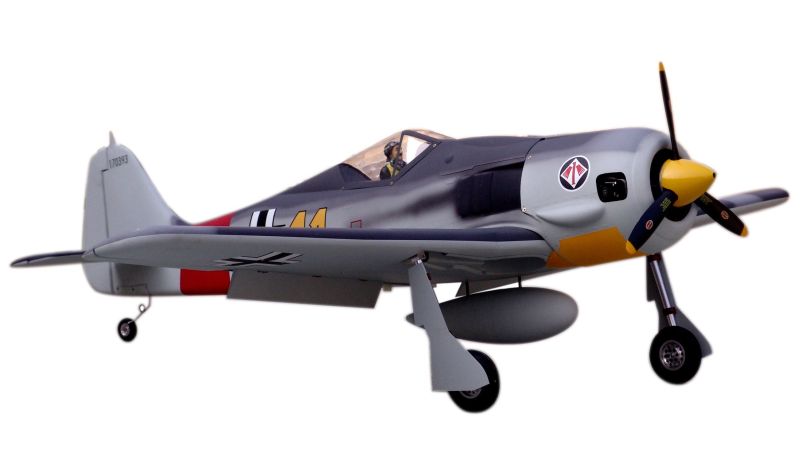 | | |
| --- | --- |
| Wing Span: | 70.9" (1800 mm) |
| Length: | 57" (1449 mm) |
| Wing area: | 6.04sq. ft (56.1 sq dm) |
| Wing Loading: | 33.7 oz/sq. ft (103.4g/sq. dm) |
| Flying Weight: | 12.8 lbs (5.8 kg) - Estimated weight 15.5-18 lbs is normal. |
| Radio: | 6ch & 8 servos |
| Gas Engine: | 26cc - 36cc (We highly recommend the DLE-30 DLA-32 or PTE-36) |
| Glow Engine: | 1.08 2 cycle or 1.20 4 cycle |
| Servo Recommendations: : | 100 oz-sq-in minimum - HD-1501, Hitec 645MG, Hitec 5645MG, DS-8309TG |
The Fw 190, as with all of ESM's scale models, is loaded with features never before found in such low priced ARF's, resulting in highly detailed, great looks, and great flying ARF's!
The detailed fuselage is epoxy resin fiberglass, with scale panel lines and rivets molded right in. Wings are typical built up construction, include pre-designed cavities and mounting blocks for optional scale retracts, and have factory constructed flaps, all of which is then factory covered with Solartex fabric. All parts are finally expertly painted right at ESM's factory, and once dry, all scale decals are pre-applied, and are then covered with a factory clear coat for protection.
All ESM planes are painted with a very high quality enamel paint which is resistant to oil, grease, and fuels. The high gloss paints are of course easier to clean than the low gloss. These paints can be painted over for weathering and the like.
The ESM Fw 190 comes from the factory with conventional gear and wheels, and one of the more complete hardware packages anywhere...including screws, rods, fuel tanks...etc. ESM also offers a complete line of retracts for each individual plane, adding to the level of scale realism that all scale pilots look for in an ARF.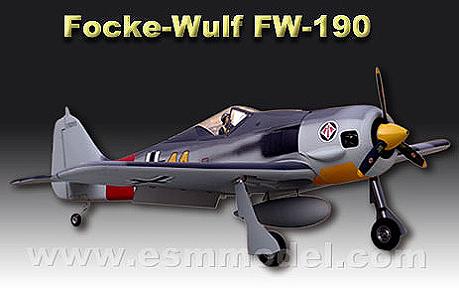 ESM 71" FW-190 (F)
$399.00
Combos:
FW-190 With PTE 36CC - $645.00
FW-190 With EME 35CC - $599.00
Flight Videos
Misc. Photos from the Web