DJ125cc Gas Engine
Founded in July,2010 DJ engines is a dedicated manufacture for RC gas engine and parts. With professional design, precision machining and reliable quality management, DJ Engines ensures the best quality of products. In addition DJ Engines is dedicated to post sales service with a commitment not only to great products but also responsible service. Experience DJ Engines commitment to reliable RC gas engines of excellent performance with reasonable price
Some cool things about the DJ 125cc
Walbro Carb (WJ 71) - NSK main bearings - Rcexl HV Ignition (6-12V)
Same prop bolt pattern as EME120 (DLE111)
18 Month warranty serviced right here by Mile High RC.
Manual - Here
270mm Spark Plug to Spark Plug
About 280mm Cap to Cap
Specifications:
Displacement: 125 cc
Weight: 5.97 pounds with ignition and mufflers

Engine - 2500g Muffler - 160g Ignition - 160g
RPM Range: 1,100-7,200
Output: 12 hp @ 7,000 rpm
Requires: unleaded gasoline, oil, ignition battery & propeller
Includes: Engine, Ignition, Muffler, Spark Plug, Exhaust Gaskets, Bolts, Standoffs, Manual, and Decals
Suggested Propellers: 26x10 - 29x10 - Suggested to load for 6,500 to 7,000 RPM.

Technical Data:


Ignition Battery: 6-12V
Compression Ratio: 7.5:1
Gas/Oil Mix: 30:1 ~ 35:1
Replacement Spark Plug: NGK CM6 or equivalent

Ignition: Rcexl (HV up to 12V)

Carb: Walbro WJ71

Timing: 28-32 Degrees BTDC
Tech notes: Finally and engine designed for the everyday flyer. This engine is designed to run smooth, start easy, with reliable idle and fuel economy. 3D is great but this engine is specifically designed for scale civilian type planes and warbirds in the 85-125cc class.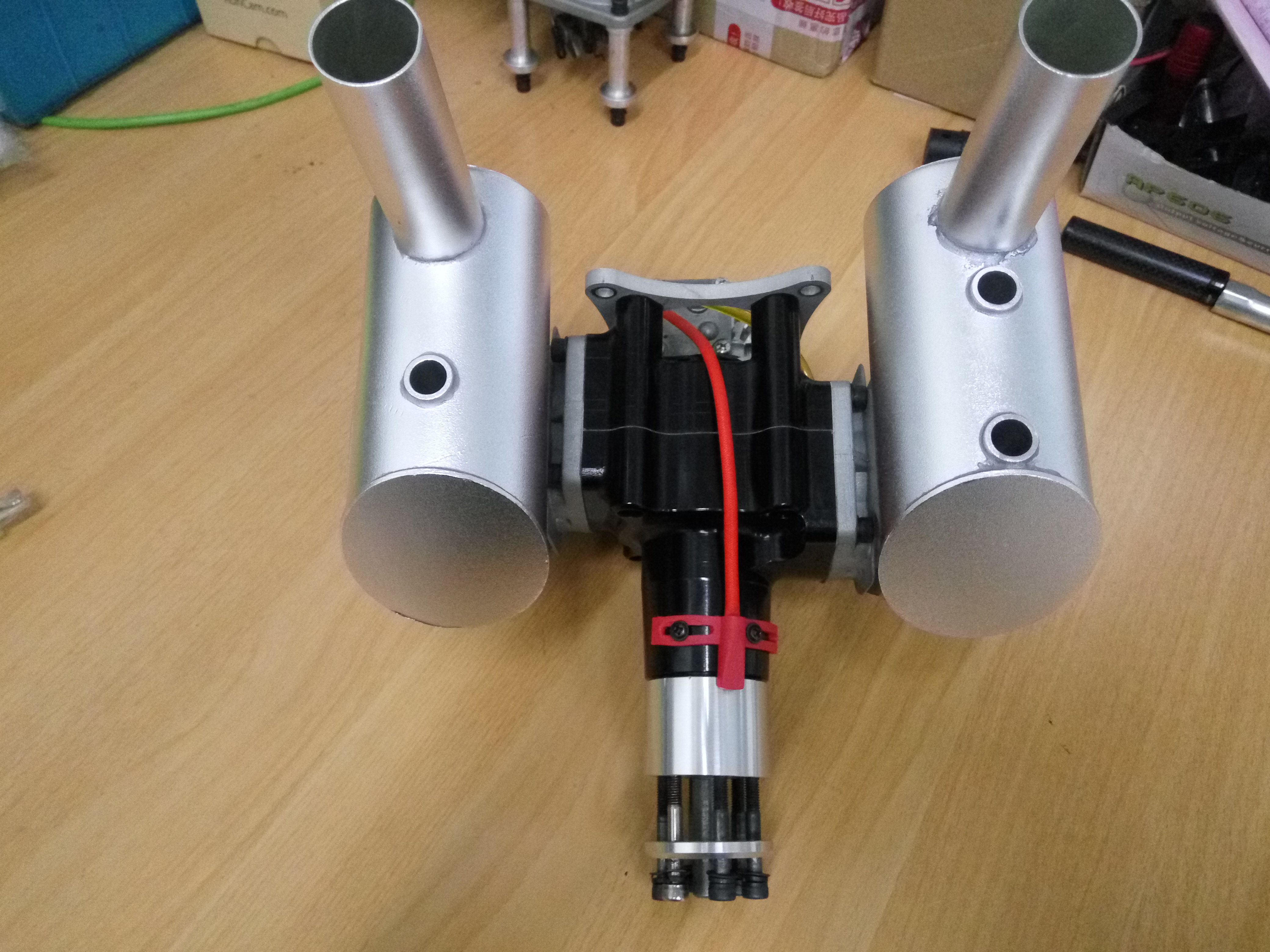 DJ 125cc Gas Motor
$559.00
Includes Free NGK CM6 plugs